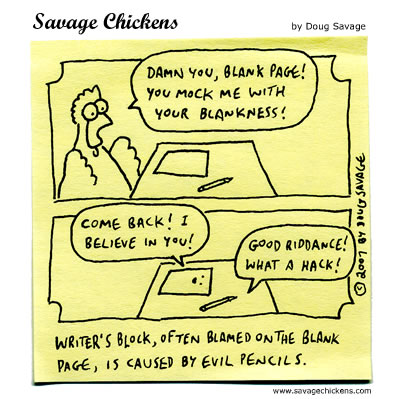 A blank page is daunting. It's a fact. It's a totally illogical fact, but it's a fact.
Sometimes the vast possibilities presented by that which is unwritten can stymie a writer. Sometimes the idea of modifying a pristine white field (whether paper or word processor) with your inadequate first draft is demoralizing. Yet it's completely illogical: possibilities thwarted by the presence of possibilities? An empty sheet of wood pulp seeming more worthy than words representing your unbridled imagination? It's totally illogical -- and yet totally true.
So true, in fact, that I've been given advice my entire life of how to combat it:
In undergrad my creative writing adviser suggested we all draft in pencil because it would feel less permanent than pen therefore allowing us the ability to put mistakes on the page without fear of ruination.
A middle school English teacher forbade our class from writing in pencil because we were too tempted to erase our good ideas along with our bad -- pen only! Mistakes were to be crossed out, but kept. And when we got our writing back from her we saw why: she nurtured all those aborted thoughts of ours and helped us see that we could stretch beyond the safe answers we thought where the "right" answers.
I've known people who type only with their eyes closed. Or who write at night, turn off their desk lamp and pitch the background color of their word processor black so that they can lose awareness of the screen's harsh, mechanical glare. (This does provide sort of an ethereal state, especially if you alter the text color to something whimsical.)
For as many people who swear by ornate "writer helping" software like scrivner, I've heard from just as many who just want a basic word processor --
cut, paste, spellcheck
-- because the additional bells and whistles of "writing helping" software can provide as much distraction as assistance.
Lately, even the word processor has become too fancy for me.